The Oxpecker and the Giraffe: I Need You and You Need Me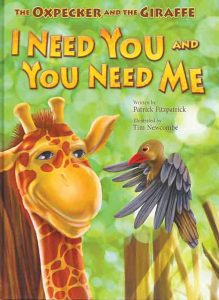 by Patrick Fitzpatrick
32 pages / 3013
Giraffe is tired of his near-constant companion, the Oxpecker bird and wants him to go away. Or as he says it in the book:
You're always climbing on my skin.
Your company is wearing thin,
You are nothing but a pest,
Fly away and let me rest.
But Oxpecker knows something Giraffe doesn't: "I need you and you need me." Oxpecker feeds itself by eating the blood-sucking bugs that want to take a chunk out of Giraffe. That keeps Oxpecker's tummy full, and also keeps Giraffe nearly pest-free! The author, a creationist, makes it clear that such interdependence should have us glorifying the God who made them both.
Vibrant pictures and a nice rhyming rhythm to it make this a fantastic educational book. But evaluating it simply as a picture book – evaluating it on an entertainment scale – then it is good rather than great. Our under 6 kids enjoyed it, and we had a good talk about it, but they haven't been as interested in re-reading it as some others. So this would be ideal for a school library, but for parents it might be better to borrow than to buy.
Billy and Blaze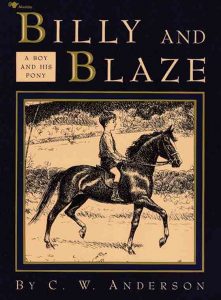 by C.W. Anderson
56 pages / 1936
C.W. Anderson (1891-1971) was only a middling author, but a fantastic illustrator. He wrote 30 children's books about horses, including a series about a boy Billy, and his horse Blaze
The adventure starts in this, the first book, with the horse-loving Billy getting his birthday wish: his very own pony. If your children like horses even a little bit they will love these books, because every second page is filled with another illustration of a horse in action. Anderson's sketches are big, and detailed, and beautiful. The stories are straight out of a simpler time – Billy and his friends are respectful to their parents, and their adventures involve exploring, rather than troublemaking.
So they are nice stories, but what really makes these books special are the pictures…and that there are 11 books in all. After all, when a parent finds a solid book our children love, we find ourselves wishing there were more to enjoy!
Our local library has 10 of the 11 books and our four and six year old have really enjoyed them. After their dad reads it, they'll look through them again, peering intently at the pictures. The only downside I can think of is that this will make a horse-loving boy or girl just a bit more "pony-crazy." But…oh well.
Finding Winnie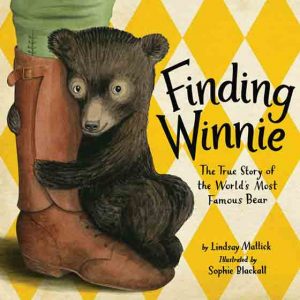 by Lindsay Mattick
56 pages / 2015
It turns out that Winnie the Pooh, a teddy bear who had fantastic and entirely fanciful adventures, was named after a real bear whose adventures were quite something too, and of the genuine sort.
Just as Winnie the Pooh starts with a father telling his son a story, so too Finding Winnie beings with a parent telling her child a bedtime tale. In this case, the storyteller is the great-granddaughter of the man who gave the first Winnie his name. Harry Colebourn was a vet living in Winnipeg. When the First World War began Harry had to go, so he boarded a train with other soldiers and headed east. At a stop on the way he met a man with a baby bear. To make a long story shorter, this bear – named Winnie after Harry's hometown – ended up in the London Zoo where a boy name Christopher Robin, and his father A.A Milne came across him and were utterly entranced.
This is brilliant, and a homage of sort to A.A. Milne's stories. It's true, so there is quite a difference between his Winnie tales and this author's, but the same gentle humor, the same whimsy, the same charm are present in both.
This will be a treat for fans of Winnie the Pooh no matter what age.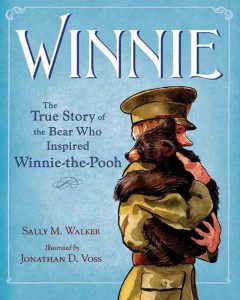 Winnie
by Sally M. Walker
40 pages / 2015
In the very same year a second picture book came out about the bear behind the bear. Winnie: the True story of the Bear who inspired Winnie-the-Pooh is also very good, very fun, and different enough that after reading Finding Winnie it is still an enjoyable read as well.
Compared to most any other picture book Winnie is remarkable – really among the best of the best – but it does lack a little of the Milne-like charm of Finding Winnie, and so ranks second among these two books.