For everything there is a season, and a time for every matter under heaven: a time to be born, and a time to die…
****
April is the month of new beginnings; the month of crocuses and daffodils peeping up. It is the month to which many particularly look forward; a month in which our children exclaim: "April Fools," and one in which we excitedly call out: "Hey, there's a robin." But, as in every month that our good God gives us, April is also a time to reflect on how short our days actually are and that there is nothing new under the sun and that God sweeps men away; they are like a dream (Psalm 90:5).
 ****
April Fooling has been done for many years. In the 1500s, Francis, the Duke of Lorraine, and his wife were held prisoners in Nantes and effected their escape in consequence of it being April 1. Disguised as peasants, the duke bore a hood on his shoulder while his wife carried a basket of rubbish on her back. Very early in the morning, thus disguised, they walked the streets towards the gate. A woman, recognizing them, ran to the guard at the gate to tell him the duke and his wife were escaping.
The guard, thinking it was a joke, cried: "Poisson d'Avril" or, "April Fools!" and all the guards, to a man, bawled out: "Poisson d'Avril!" including the sergeant in charge of the gate. And so the "peasants" were allowed to pass. The governor of Nantes, to whom the story was relayed, became suspicious and ordered the fact to be proven. But it was too late. Through all this tomfoolery, the duke and his wife were well on their way to freedom. But at the end of the days appointed to them by God, they too, like all mortals, died, and were buried.
The wise person has his eyes in his head, but the fool walks in darkness. And yet I perceived that the same event happens to all of them (Eccl. 2:14).
 ****
On April 2, 308, Theodosia of Caesaria was martyred. She was but seventeen-year-old – a Hebrews 11 type. Tortured and urged to reject Christianity, she was thrown into the sea when she clung fast to Christ.
If you see in a province the poor oppressed and justice and right violently taken away, do not be amazed at the matter…(Eccl. 5:8).
 ****
The Welsh-born poet, George Herbert was born on April 3. He died of consumption at age 39. His biographer said of him that he composed "such hymns and anthems as he and the angels now sing together in heaven."
He has made everything beautiful in its time. Also, he has put eternity into man's heart, yet so that he cannot find out what God has done from beginning to the end (Eccl. 3:11).
 ****
Oliver Goldsmith, English poet and writer, died on April 4, 1774 of a kidney infection. Described by his contemporaries as congenial, impetuous and disorganized, he once planned to emigrate to America but failed to do so because he missed his ship.
A wise man's heart inclines him toward the right, but a fool's heart toward the left (Eccl. 10:2).
 ****
On April 5 in 1689, Danton, a leading figure in the early stages of the French Revolution, was guillotined.
Moreover, I saw under the sun that in the place of justice, even there was wickedness, and in the place of righteousness, even there was wickedness (Eccl. 3:16).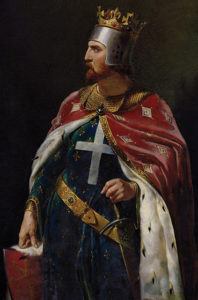 Richard the Lionhearted died on April 6 in 1199. He was shot by a crossbowman in battle at Chalus, central France. His entrails were buried at Chalus. The rest of his body was entombed further north, in Fontevraud Abbey. And His heart was embalmed and buried in Rouen. Transformed into a brown powder which rests in a crystal box, the heart is exhibited at a museum of antiquities and does not exceed the weight of one and a half ounces.
As man came from his mother's womb he shall go again, naked as he came, and shall take nothing for his toil, which he may carry away in his hand (Eccl. 5:15).
 ****
On April 7, 1506, Francis Xavier was born. A Roman Catholic missionary, he ventured into Japan, Borneo and the Malaku islands. He was canonized by the Roman Catholic Church in 1622.
As well, the Dutch Petrus Camper, died on this day in 1789. Camper was a physician, anatomist, physiologist, mid-wife, zoologist, paleontologist and a naturalist.
Then I saw all the work of God, that man cannot find out the work that is done under the sun. However much man may toil in seeking, he will not find it out; even though a wise man may claim to know, he cannot find it out (Eccl. 8:17).
 ****
On April 8, 217, Caracalla, the 22nd Roman emperor died. In order to get the throne, Caracalla assassinated his brother Geta, executed most of his brother's supporters, and ordered his brother's memory stricken from records.
In my vain life I have seen everything; there is a righteous man who perishes in his righteousness, and there is a wicked man who prolongs his life in his evil-doing (Eccl. 7:15).
 ****
George Peacock, dean of Ely for the last twenty years of his life, and a mathematician, was born in Denton, in 1791 on the 9th of April. While dean of the cathedral, he wrote a textbook on algebra comprising two volumes.
On this same date in 1616, Francis Bacon, philosopher, statesman and scientist, died. He died of pneumonia which he contracted while studying the effects of freezing on the preservation of meat.
He who quarries stones is hurt by them; and he who splits logs is endangered by them (Eccl. 10:9).
 ****
On April 10th, 1843, eight laborers were digging around some trees in Tufnell Park near Highgate on the north side of London. Hitting something hard with their shovels, they were surprised to find at the root of one particular tree were two jars filled with 400 sovereigns of gold. These they divided. However, soon afterward, Mr. Tufnell, lord of the manor where they were employed, claimed the whole treasure. According to the law, this hidden treasure belonged to the Crown, to the lord of the manor, to the finder or to two of these three.
While all were puzzling, the real owner came forward. He was a brass founder from Clerkenwell. For nine months he had had a temporary mental delusion and one night he had taken the two jars of sovereigns and buried them. Being able to prove it, his claim was admitted.
He who loves money will not be satisfied with money; nor he who loves wealth, with gain; this also is vanity (Eccl. 5:10).
 ****
On April 11, 461, Pope Leo the Great was born. The first pope to be called "Great," he asserted the universal jurisdiction of the Roman bishop.
As well, Stanislaus Poniatowski, the last king of Poland, died on this day in 1798 in St. Petersburg.
All go to one place. All are from the dust, and to dust all return (Eccl. 3:20).
 ****
Seneca, a Roman philosopher, one who was tutor to Nero, died April 12 in 65, because he dared advise his fiddling pupil that he should restrain his excesses. When this advice went ignored, he knew his life was in danger. Not one to be told what to do, Nero ordered his teacher to commit suicide. This Seneca did in front of his wife and friends. His veins were opened and he took a draught of poison. Dying slowly, he was submersed in a warm bath which was expected to speed blood flow and ease pain. Some medieval writers believed Seneca had been converted to the Christian faith by Paul.
It is better for a man to hear the rebuke of the wise than to hear the song of fools (Eccl. 7:5).
 ****
In 1760, on the 13th of April, Dr. Thomas Beddoes, writer on medicine and natural history, was born.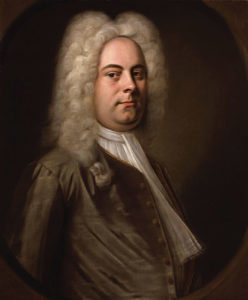 On that same day in 1759, George Frederick Handel died.
There is … a time to be born, and a time to die… (Eccl. 3:2a).
 ****
The 14th of April in the year 1360 was the morrow after Easter. King Edward III, with his host, lay before the city of Paris. It was a dark day, full of mist and hail and so bitterly cold that many men died while sitting on their horses. Wherefore, this day has been called Black Monday.
Keep the king's command, and because of your sacred oath be not dismayed; go from his presence, do not delay when the matter is unpleasant, for he does whatever he pleases (Eccl. 8:2-3).
 ****
Dominico Zampieri, an Italian painter died on April 15, 1641. The son of a shoemaker, he was slight in stature and knows as "little Dominico." His paintings are said to be worth much money, even millions, today.
I hated all my toil in which I had toiled under the sun, seeing that I must leave it to the man who will come after me, … (Eccl. 2:18).
 ****
One John Law, speculative financier, was born on April 16, 1671. Working for Louis XV, he established a private bank, Banque Generale, in France. Three-quarters of its capital consisted of government bills and government notes, making it the first central bank of the nation. A gambler and a brilliant calculator, he was known to win card games by mentally calculating the odds.
Then I considered all that my hands had done and the toil I had spent in doing it, and behold, all was vanity and a striving after wind, and there was nothing to be gained under the sun (Eccl. 2:11).
 ****
On April 17th of 1725, a John Rudge bequeathed to the parish of Trysall in Staffordshire, 20 shillings a year. He did this so that a poor man might be employed to go about the church during the sermon and keep people awake as well as keeping dogs out of the church.
Guard your steps when you go to the house of God (Eccl. 5:1).
****
On April 18, 1740, Dr. Erasmus Darwin, grandfather of the infamous Charles, died. Erasmus had two illegitimate daughters with his son's governess. He was also the grandfather of one Francis Galton, who in the late 19th century would found the science of eugenics.
As you do not know how the spirit comes to the bones in the womb of a woman with child, so you do not know the work of God Who makes everything (Eccl. 11:5).
 ****
In 1757, on April 19th, Edward Pellew, Viscount Exmouth, naval commander, was born. He fought during the American War of Independence, the French Revolutionary Wars and the Napoleonic Wars.
A good name is better than precious ointment; and the day of death than the day of birth (Eccl. 7:1).
****
Bram Stoker, he who penned Dracula, in 1897, died on April 20 in 1912.
The more words, the more vanity, and what is man the better? (Eccl. 6:11).
 ****
On April 21, 1653, Prince George of Denmark, consort of Anne, Queen of England, was born. Anne's seventeen pregnancies by George resulted in twelve miscarriages, four infant deaths and a chronically ill son, William, who died at the age of eleven. Despite the deaths of their children, George and Anne's marriage was a strong one.
It is better to go to the house of mourning than to go to the house of feasting, for this is the end of all men and the living will lay it to heart (Eccl. 7:2).
 ****
King Henry VII of England died on April 22 in 1509 in Richmond. Henry VII was the first monarch of the House of Tudor.
There is a grievous evil that I have seen under the sun: riches were kept by their owner to his hurt, and those riches were lost in a bad venture (Eccl. 5:14).
 ****
On April 23, 1215, King Louis IX of France was born.
As well, William Shakespeare died on this day in 1616 in Stratford-on-Avon.
Again I saw that under the sun the race is not to the swift, nor the battle to the strong, nor bread to the wise, nor riches to the intelligent, nor favor to the men of skill; but time and chance happen to them all (Eccl. 9:11).
 ****
On April 24 in 1731, Daniel Defoe, author of Robinson Crusoe died. A prolific writer, who wrote more than 500 books, he used more than 198 pen names. He was probably hiding from creditors when he died.
All streams run to the sea, but the sea is not full; to the place where the streams flow, there they flow again (Eccl. 1:7).
 ****
In Rymer's Fedora (a collection of miscellaneous documents), there is reference to a woman named Cecilia who was jailed for the murder of her husband. While in jail she remained mute, and was said to have abstained from food for 40 days, after which she was presented to King Edward III. It is recorded that, moved by piety and for the glory of God, and the virgin Mary, (to whom it says the miracle was owing), the king pardoned her on April 25, 1357.
If the anger of the ruler rises against you, do not leave your place, for deference will make amends for great offenses (Eccl. 10:4).
 ****
In 1711 on the 26th of April, David Hume, philosopher and historian, was born in Edinburgh. He was a skeptic and an atheist and continues, sadly enough, to influence many people today.
…the lips of a fool consume him. The beginning of the words of his mouth is foolishness and the end of his talk is wicked madness (Eccl. 10:12b-13).
 ****
On April 27th in the year 1546, William Foxley, pot-maker of the Mint in the Tower of London, fell asleep and could not be awakened by pinching, cramping, burning, or anything else. He slept for 14 days and 15 nights. The cause of his thus sleeping could not be known, although the cause was diligently searched for by the king's physicians and other learned men. The king himself examined William Foxley, who was in all points found at his waking as though he had slept but one night. And he lived more than 40 years afterward.
Sweet is the sleep of a laborer, whether he eats little or much; but the surfeit of the rich will not let him sleep (Eccl. 5:12).
 ****
On April 28th, 1772, there died at Mile End a goat that had twice circumnavigated the globe. In the ship "Dolphin," under Captain Wallis and in the ship "Endeavour" under Captain Cook. The Lord of the Admiralty had just signed a warrant, admitting the goat to the privilege of an in-pensioner of Greenwhich Hospital, a boon she did not live to enjoy.
For the fate of the sons of men and the fate of beasts is the same; as one dies, so dies the other. They all have the same breath, and man has not advantage over the beasts; for all is vanity (Eccl. 3:19).
 ****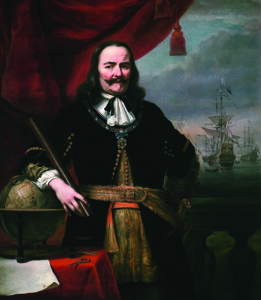 On the 29th of April, in 1676. Michiel de Ruyter died. In early life a common sailor, he rose to the rank of admiral. De Ruyter was the man who by the grace of God, in the seventeenth century, made Holland one of the greatest maritime powers in the world. He was struck by a cannonball at age 69 and passed away in Sicily, Italy.
For if a man lives many years, let him rejoice in them all; but let him remember that the days of darkness will be many. All that comes is vanity (Eccl. 11:8).
 ****
On April 30, 1751, Richard Gough wrote in his diary: "At Glastonberg, Somerset, a man 30 years old afflicted with asthma, dreamed that someone told him if he drank of such particular waters near the Chaingate for seven Sunday mornings, he should be cured. The man did and accordingly became better, attesting his healing with an oath. This being rumored abroad, it brought people from all parts of the kingdom to drink of the so miraculous waters for various distempers and many were healed and a great number received benefit. It was actually computed that 10,000 were at Glastonberg to drink the water.
Is there a thing of which it is said 'See, this is new?' It has been already, in the ages before us (Eccl. 1:10).