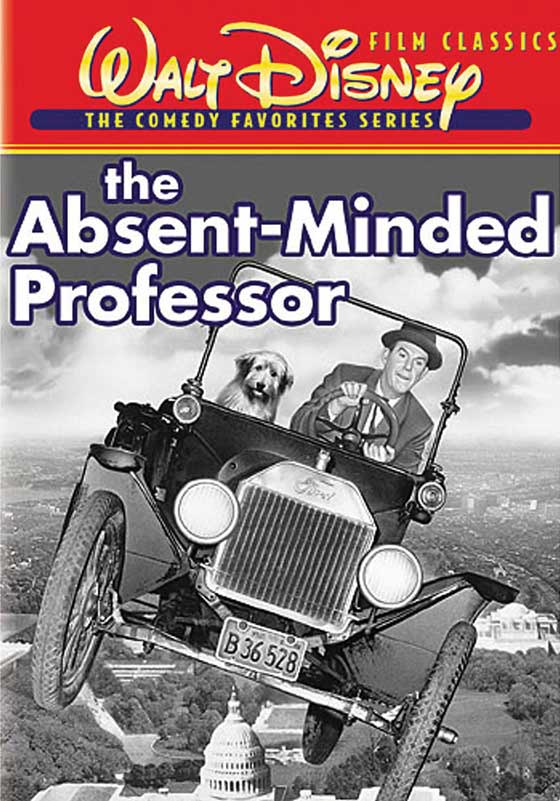 THE ABSENT-MINDED PROFESSOR
Family
1961 / 96 minutes
ENTERTAINMENT RATING: 7/10
The classic begins with a bang – a lab accident blows up Ned Brainard's garage and leaves the professor knocked out cold.
The good news? This explosive experiment has produced a wondrous new substance – a rubbery material that when rolled up in a ball and dropped gains height with each bounce. It's almost like this rubber can fly so, of course, the professor names it flubber. And what's the first thing he does with flubber? Why, use it to create the world's first flying Model T of course!
The bad news? While he was out cold the professor missed his wedding…for the third time!Betsy Carlisle is his long-suffering fiancee. While she loves her Neddy, this is it – she doesn't want to hear any more excuses. "I say, three strikes and you're out!"
To make the situation that much more difficult for Ned, he has a rival for Betsy's attention. Professor Shelby Ashton is egotistical and even more self-absorbed than Ned but he has one thing going for him – he knows how to shows up on time.
To get Betsy's attention Ned puts his flubber to use and this is where the fun really begins. When the college's basketball team is losing badly, Ned secretly irons flubber on to all of the players' shoes. When the second half starts the Medfield team is now able to jump, not just over the other team, but right over the gym rafters!
While this stunt doesn't impress Betsy, Ned and his flying Model T do catch the attention of all three branches of the US military and a particularly unscrupulous businessman. Car chases and hijinks soon follow.
Cautions
As children do sometimes do as they see, the biggest concern might be language. One of the villains – businessman Alonzo Hawk – calls people "idiots," "stupid," or "tells them to shut-up."
There is some violence – a shoot-out in which no one gets hit, and two thugs unsuccessfully trying to get Professor Brainard – but this is of the comic sort and even our six-year-old knew everything was going to be okay (but our four-year-old had to be reassured).
Oh, and at one point Hawk gambles on a basketball game.
It may be worth pointing out to younger viewers that the "hero" of this story, Professor Brainard, is not a good example at the beginning – he's prioritized science over his bride-to-be! Thankfully, by film's end he's learned the error of his ways.
Conclusion
This classic spawned a sequel and two remakes but they never improved on the original. A flying car, a villain who can leap buildings in a single bound, a damsel who's in distress because her bumbling knight has left her at the altar again – this is fun that everyone will enjoy.
*****
THE SPIRIT OF ST. LOUIS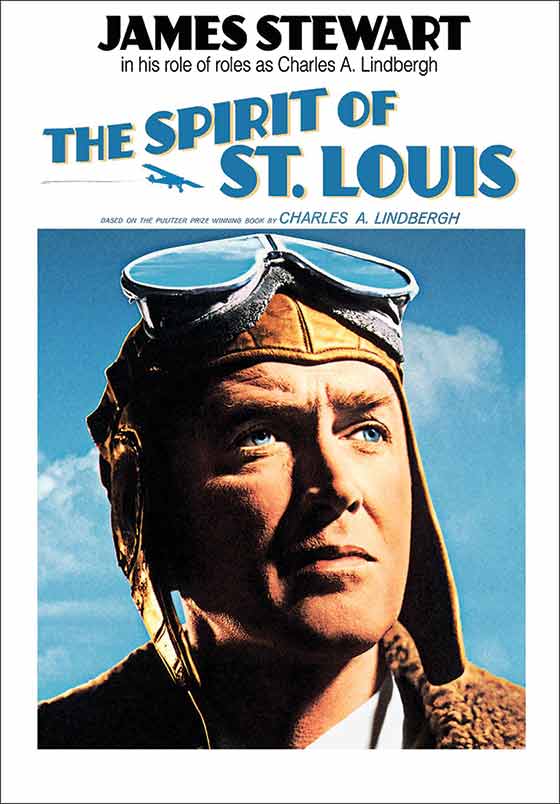 Family / Biography
1957 / 135 minutes
RATING 7/10
Charles Lindbergh's 1927 flight wasn't the first to cross the North Atlantic. That was accomplished 8 years earlier, in May of 1919, by a crew of United States Navy aviators flying in a biplane equipped with floats. The floats were so it could land on the water, which it did a number of times to give the crew time for repairs and rest. Their flight, from New York State to Lisbon, Portugal took 19 days.
That flight has largely been forgotten because it was eclipsed, just two weeks later, by a pair of British aviators, John Alcock and Arthur Brown, teaming up to make the first non-stop flight across the Atlantic. They took a far shorter route, flying from Newfoundland, to Ireland. Their biplane managed the journey in just under 16 hours, crash-landing in a bog the pilots mistook for a suitable landing field. Both men were unharmed.
So why is Charles Lindbergh's crossing the one best remembered? One reason was the $25,000 Orteig Prize for the first successful non-stop flight from New York to Paris. It had been offered since 1919, but despite a number of efforts over the next 8 years, no one had yet managed to claim it. Another reason was that Lindbergh's flight was the first solo flight across the Atlantic. And the third reason is related to the first – by flying between two major international cities, New York and Paris, Lindbergh's flight showed the world that commercial aviation was a real possibility. Just a dozen years later the first commercial transatlantic flights began.
But enough history, how was the film?
Well, if you like Jimmy Stewart, or appreciate biographical films, or enjoy learning even as you're entertained, or have wanted to know more about Charles Lindbergh, or wanted a nice family film, then you're sure to enjoy The Spirit of St. Louis.
The film is named after Lindbergh's plane, and the story begins on the night before his journey begins. Even as "Slim" is tossing and turning, trying to catch some sleep before he begins what could be a 40-hour flight, he starts remembering what led him to this point. We see, in these flashbacks, and others that take place during the flight, how Lindbergh first bought his first plane, how he handled his job as a mail aviator in terrible weather conditions, how he convinced a group of St. Louis businessman to back his transatlantic attempt, and how the Spirit of St. Louis was designed and built.
Some of these recollections are told to a stowaway – a fly who comes along for the first part of the flight. It's a charming device, which our kids really enjoyed – Lindbergh points out to the fly where they are on the map and how long they've been flying. I was even a little disappointed when the fly decides he'd prefer to stay on this side of the Atlantic, and takes his leave out the open cockpit window.
For some kids and adults, used to more frenetic action, the pacing might strike them as a bit slow. The film is also long, at more than two hours, and I suspect it might have lost our kids' attention if we hadn't watched it in two separate chunks. But broken up that way, it kept the attention of our whole family from 4 to 46.
Cautions
The topic matter of the film raises a few issues that could be worth talking about with the kids. The first is hero-worship. Lindbergh had drive, skill, and charisma – we can't help but root for him. But what the film doesn't get into is his failings – he had several affairs. Of course, our kids don't need to know all about that, but it is good to remember that our heroes have feet of clay, so we should not put them on a pedestal.
Another topic worth a discussion is, what sort of risk is appropriate? Lindbergh was probably not a Christian and likely an agnostic, so he wasn't assessing risk from a Christian perspective. But we can. And in light of the other pilots who had died earlier trying this same flight, was it a good and worthy thing for Lindbergh to attempt? Or was he treating carelessly the life that God had entrusted to his stewardship? Questions worth discussing.
Finally, Lindbergh's religious views do come up, briefly in the film. Lindbergh was a private man, so his religious views seem hard to nail down, but he wasn't an orthodox Christian. However it's said he flew combat missions in World War II with a New Testament, and later spoke of the importance of Jesus' ethics. In the film his muddled thinking about God comes up in a few brief scenes. First, Lindbergh notes that when he flies he doesn't ask God for help. A Roman Catholic priest tries to set him right, and later on a friend superstitiously sneaks a St. Christopher's Medal on the flight for good luck (the medal is thought, by Catholics, to ask the saint to bless a traveler's journey). Finally, as he is at the end of his flight, sleep deprived and unsure he can land it, he tries to recall one of the priest's prayers, and ends up simply crying out to God for help. This confusion about God might be surprising to very young viewers, and worth a discussion.
Conclusion
The 49-years-old Jimmy Stewart was playing a man 24 years his junior, and if Lindbergh seems a little older than 25, Stewart still pulls it off. This is an interesting bit of history, charmingly acted. Another good one for the whole family.
*****
BORN FREE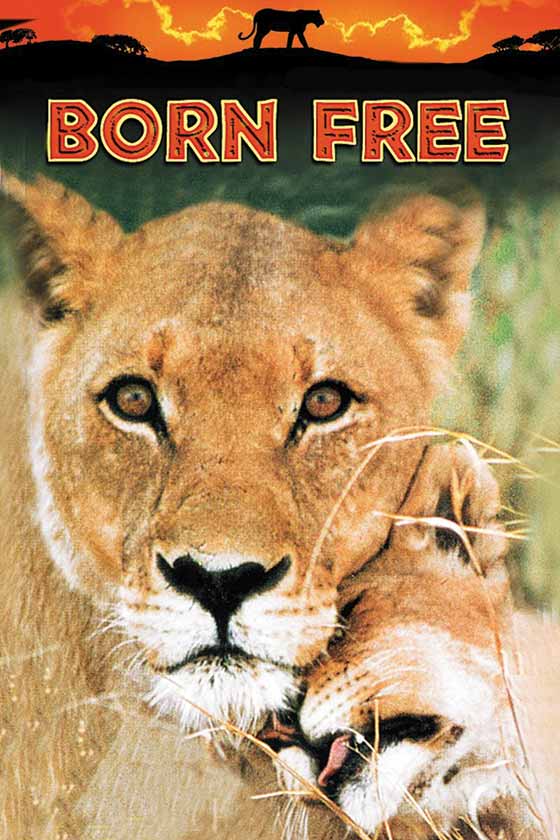 Family / Drama
1966 / 95 minutes
RATING 8/10
When a man-eating lion has to be shot, and his mate too, three little cubs are left as orphans. Game warden George Adamson takes them back to his wife Joy, and their home.
As you might expect, three wild lion cubs can get into all sorts of hijinks when they're kept inside. Seeing Elsa, Lustica, and Big One bound on the furniture, and on the Adamsons will be a favorite part for many younger viewers.
The Adamsons raise the triplets until they are too big to manage, and then send two to the Netherlands Rotterdam Zoo. But Elsa, the runt of the litter, ends up staying with them….until it become impossible to keep her too. But how can they send Elsa off to a zoo when all she's known was the wide spaces of the game reserve? The couple hatches a plan to teach their Elsa how to hunt and survive in the wild.
Cautions
The story begins with a woman, busy washing her clothes in the river, getting attacked by a lion. We see only the lion charging, the woman shriek and put up her hands, but not the attack itself. Afterwards a shot of the river shows blood flowing by. While this opening scene is too scary for young children, if parents fast-forwarded that bit (explaining, rather than showing, what happens) the rest of the film could probably be viewed by most children 8 or 9 and up.
A 1-minute scene (in the last 10 minutes of the film) of one lion fighting another might also be too intense for young viewers.
Language concerns include one instance of "damn it" but nothing else.
Conclusion
In children's entertainment, whenever Nature or the environmentalism is addressed, Man is most often portrayed as a curse on creation rather than as a caretaker of it (think Bambi, Ferngully, The Lorax, etc.). But in Born free the Adamsons are games wardens, responsible for the care and management of creatures. We might question some of their priorities (when the Elsa stampedes an elephant troop into a village that should have been reason enough to send her away to a zoo). But overall, in Born Free Man's management role is assumed – the Adamsons are exercising dominion (Genesis 1:28). That makes this film a counter to some of the unbiblical environmental propaganda children will encounter, particularly if mom or dad use it as a conversation starter.
Based on a true story, Born Free is simply enchanting. Some of that is due to the on location shooting in Africa, as well as the Oscar-winning score. But the scene-stealers are the lions, especially when the three sisters are all cubs getting into laugh-out loud mischief. Whether you are a cat person or not, watching these beautiful creatures jump and play and hunt will have you in awe of the Creator who crafted them.
Born Free is a film that all ages will enjoy…so long as parents note the warnings above.
*****
THE MAN WHO SHOT LIBERTY VALANCE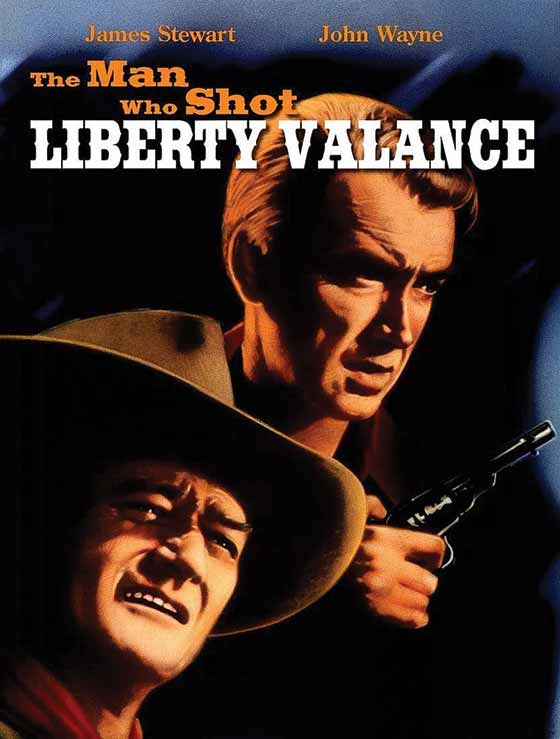 Western
1962 / 123 minutes
RATING 8/10
What does it mean to be a man? In this classic Western, Hollywood offers up two answers.
Tom Doniphon (John Wayne) is a successful horse rancher living just outside the town of Shinbone who prides himself on not needing anyone and not fearing anyone. He solves his own problems, and figures that everyone else should do the same. Self-reliant – that, in his mind, is what makes a man a real man.
Ransom Stoddard (Jimmy Stewart) is a lawyer, newly arrived to Shinbone who starts a school for both children and adults when he discovers that most can't read. He wants to bring law and order to town, but via the law book, and not the gun barrel, and that makes him naive. But he's also principled and caring, and that, in his mind, is what makes a man a man.
To put both these models of manhood to the test, we have Liberty Valance, a bully and a killer. He and his gang do whatever they want, and none of the town folk dare stop him. Doniphon could stop him… but that would be solving other people's problems for them. Ransom wants to stop him… but he'll need more than just his law books.
Cautions
This is an all-time classic that everyone will enjoy…if they have the patience for it. It starts off slow, and the pacing throughout is far more relaxed than anything a modern viewer is used to. If it were made today, they would cut at least a half hour. But, if you go in understanding that, then this will be a grand film.
It's the nature of Western to have some violence in them, but in this one a lot of it occurs offscreen, though just barely so, as when Ransom is whipped. Onscreen we see a manic Liberty striking furiously, but Ransom is just below the frame, so we don't see the blows land. A couple people are shot, but without any real gore.
The only language concerns would be one use of "damn"
Conclusion
If your children regularly watch TV then the pace of this film will be too slow to keep their interest. But otherwise this would be a classic worth sharing with the family including children maybe 10 years old and up. It's good fodder for a discussion about the difference between Hollywood's ideal man, and the type of man God calls us to be in passages like Ephesians 5:21-33.
*****
THE SEAHAWK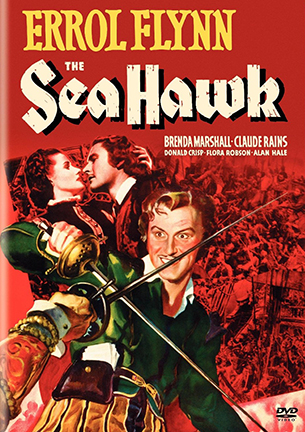 Drama / Action
109 minutes / 1940
RATING: 8/10
While The Seahawk is set in 1585, and pitches Spain against England, this film was all about the politics of its day. Spain is clearly a stand-in for the Germany of 1940, and King Phillip could only have been more Hitler-esque if they had given him the small patch mustache.
The story begins with Phillip laying out his plans for world domination. He demands from England that they refrain from building a fleet and offers his friendship, if they give in to his demands. Queen Elizabeth does her very best Chamberlain imitation, refusing to prepare for the clearly hostile Spain. She chooses to appease the tyrant, even as Phillip is building an armada.
Then there is Captain Thorpe (Errol Flynn) with his own stand-in role. He has his own ship, which is part of an English privateer fleet, the Seahawks. Even as Elizabeth appeases Phillip, the Seahawks raid Spanish towns and sink Spanish ships. Thorpe is channeling at least a little Churchill, urging the queen – and through her, the nation of England – to prepare for war.
That makes this film fascinating on two very different levels. It is a fantastic swashbuckling film all on its own, and it is also a wonderful bit of anti-Nazi propaganda, intended to rally the nation to resist. Queen Elizabeth concludes the film with a speech that is a clear call for America to come join the war.
"When the ruthless ambitions of a man threaten to engulf the world, it becomes the solemn obligation of all free men to affirm that the earth belongs not to any one man, but to all men."
Cautions
There is a lot of fighting, with folks getting stabbed and shot. But there is no gore.
Conclusion
I had an opportunity to watch The Seahawk with a group of friends who, as a general rule, don't watch black and white films. A few exchanges struck them as a bit corny – acting in the 1940s did sometimes take a melodramatic turn – but the swashbuckling action and the self-sacrificial hero, the Second World War subtext, well, it swept away all their resistance. They simply couldn't help themselves: they had to love it!
Jon Dykstra also reviews movies at ReelConservative.com where some of these reviews first appeared. 
Never miss an article!
Sign up for our newsletter to get all the week's posts sent right to your inbox each Saturday.